Halloween Tea Party and Spooky Fun Party Ideas
When it starts getting into spooky season and Halloween party time, you might be looking for something different to do this halloween.  That's where the Halloween Themed Tea Party Ideas will become your most useful tool this Halloween season. Tea parties are fun for both kids and adults alike. 
We have curated the best Halloween themed party ideas right here.  Take a look at all of the fun you can have for your Halloween tea party at home.
How to Throw a Halloween Tea Party
The first thing you want to have for your party this Halloween will be pumpkins galore.  Small pumpkns or large pumpkins are a great go-to item to decorate, carve, and eat!
Next, when you are throwing a halloween tea party, you will want to think of what kind of tea you want to serve of course.  Here are a few ideas for teas or tea alternatives for your halloween party:
Tea Bags
If you want to go for the "real deal" have a variety of tea bags for guests to choose. 


Black Tea
This black tea just goes with a Halloween party!  Black tea, black cats, black spiders – totally goes with the theme.  However, youngsters might not like the flavor, so we do have some tea alternatives below as well.


Pumpkin Spice Tea
If you are going with more of a pumpkin themed party, the pumpkin spice tea will be the way to go!


Tea with Cinnamon and Pumpkin Spice Added
Bring on the fall vibes with this cinnamon and pumpkin spice!.  Start with a plain green or black tea, then add your own spices.
Tea with Honey
Traditional tea with honey is a great tea for most occasions.


Tea Alternatives:
Apple Cider
The perfect fall vibes are happening with apple cider.  Warm the apple cider to enhance the flavors.


Hot Chocolate
Always a crowd pleaser – hot chocolate!  No explanation needed!
It is also fun to think of names for your tea. My favorite name is a "witch's brew" tea.
The third major item that you will want to think about is the halloween menu. The party food is something to which your guests will be looking forward. The best part of a halloween party is creating original food items that will be spooky and fun.
Since it is a Halloween party, guests will be expecting to find "finger sandwiches" and something sweet such as cupcakes with their tea as well.
Picking the Food for a Halloween Tea Party
Let's face it, the food is pretty much the star of the show of most parties.  When it comes to kids, they want to know "what are we eating?" or "when are we eating?"  Every mom knows these questions quite familiarly. 
The best part about a Halloween party is that you can get creative with lots of different food items for your Halloween tea party.  
Starting with appetizers before the tea, the tea itself, tea sandwiches, fruit or vegetables to pari, and finally the cookies and/or cupcake dessert options.
Now that you have the basic outline for what to serve, let's get into the details of an actual menu.  Speaking of menu, be sure to create unique names for food items that go along with the Halloween theme.  
It can be a plain old everyday food item, but if you give it a spooky name, it can be a total game changer!
11 Halloween Themed Tea Party Menu and Party Ideas
Planning your halloween tea party food and party ideas is essential to have the best tea party.
#1 Witch Treats for Tea Party
The witch theme for Halloween has been around for a long time but it is still very relevant.  It can be a "good witch" or a "villain witch" theme, either way you can make some delicious treats for the party.  In addition, have fun with decorating and costuming because this is going to be a blast.
Make a skeleton centerpiece for your tea party table.  Use the diagram below to design a veggie skeleton. Hummus or Ranch with black olives for the head and face are decorative and delicious.  The other parts of the body are made of mushrooms, peas, broccoli, peppers, tomatoes, and cauliflower.
This bat themed dessert is quite a showstopper.  Use the picture below to design your bat pudding cup.  Recipe is on Cake Whiz.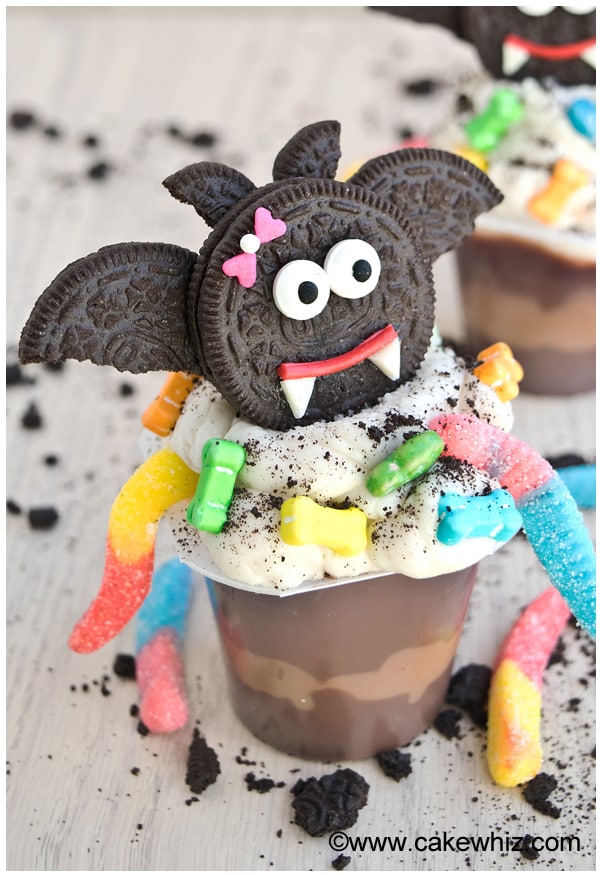 Honestly,  I am not sure if Jack Skellington is supposed to be scary, but he sure is liked by many kids. These cheese cakes are super cute.
#11 Wonderland Theme Tea Party
A fan favorite – Alice in Wonderland Themed Tea Party.  Gather the black and white tea cups and find the most unique table decorations.  This wonderland tea party theme is a crowd pleasing event.
Halloween Tea Party Ideas for Photo Booth
A photo booth for your party is a great way to have keepsake photos for you and your guests.  Set up an area for a photo booth and let the fun begin.  The photo booth can double as your Halloween tea party decorations. 
Your photo booth background will depend on the theme of your party.  Here are a few ideas that can work for any Halloween themed party.
You may want to download the Tea Party Checklist for help in planning an easy and successful tea party.