Hosting a Wonderland Tea Party
Step into the whimsical world of Alice in Wonderland with our guide to planning the ultimate tea party! Whether you're a fan of the classic story or simply looking to host a memorable and enchanting event, our tips and ideas will transport you and your guests to a magical wonderland of tea, treats, and fantastical decorations. In fact, from invitations to menu, we've got you covered to ensure your tea party is an unforgettable adventure!
In addition, a wonderland tea party can be the perfect occasion for a kids birthday party idea, baby shower, or a kids 'brunch and a movie' activity.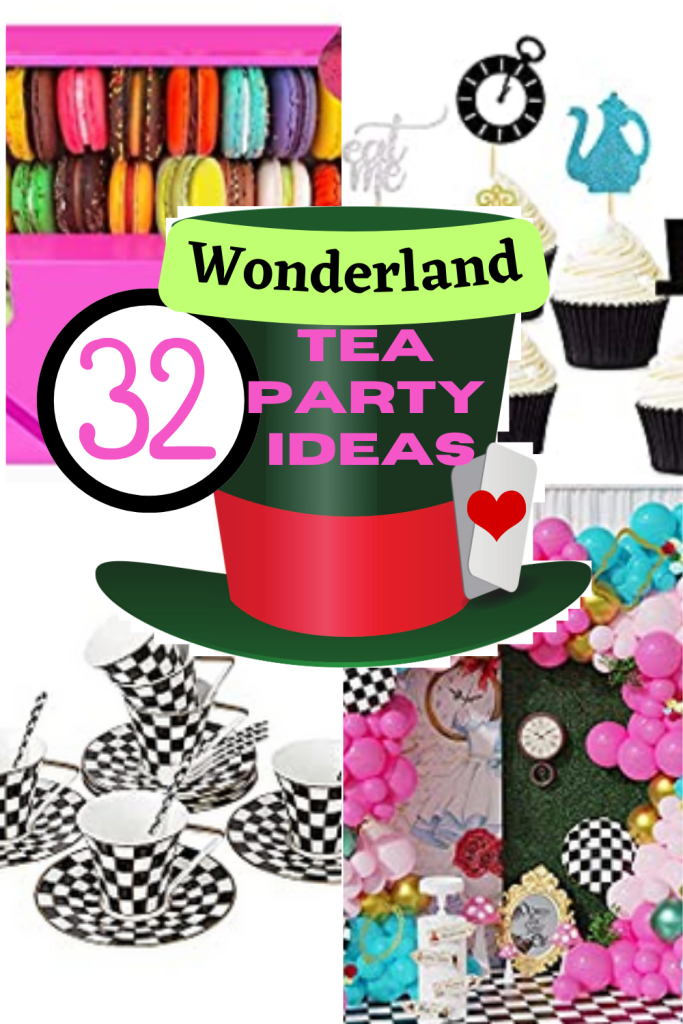 Wonderland Party Invitations
To set the tone for your party, send out invitations that capture the whimsical and fantastical spirit of Alice in Wonderland. You can use designs featuring playing cards, tea cups, rabbits, and other elements from the story. You can also add quotes from the book or movie to your invitation. For example, "We're all mad here!" would be a cute quote. 
Below is a free download of a Wonderland Tea Party invitation with lots of character decorations.
One of my favorite parts of an Alice in Wonderland Tea Party is the decorating.  The mix of colors, flowers, checkerboard, along with playing cards is such a mismatch that works so well for this theme.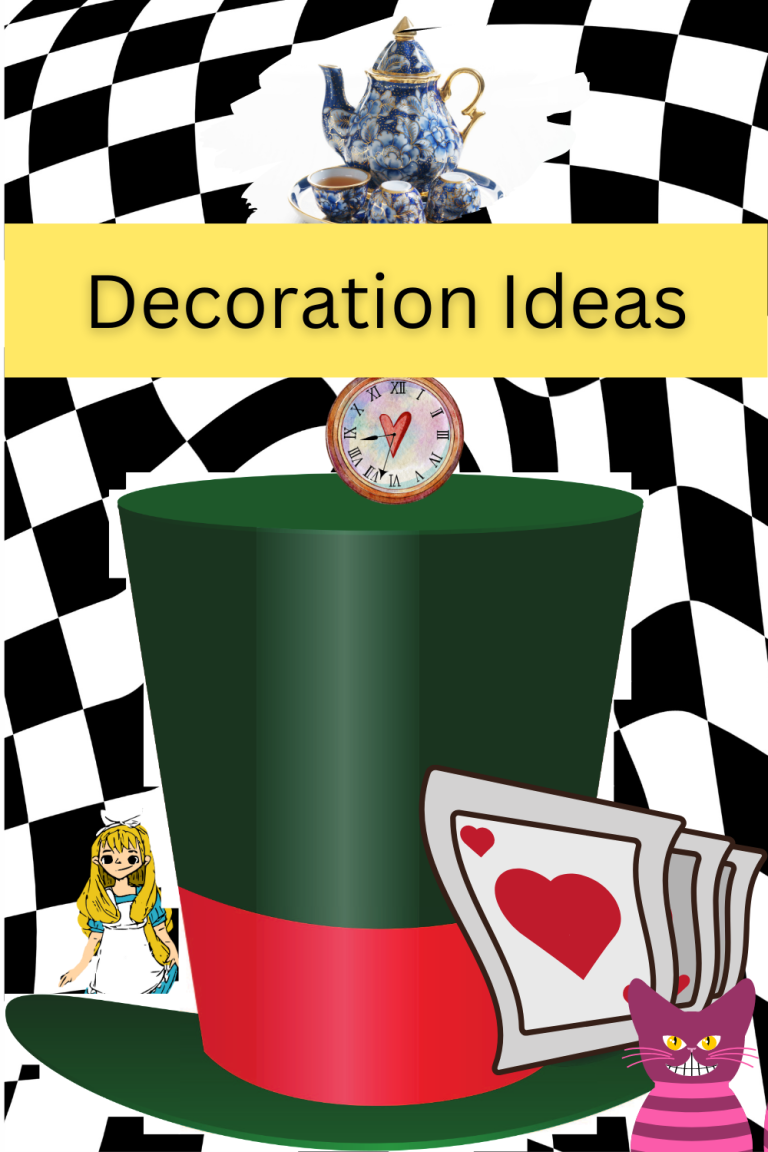 Decorations for the Tea Party
Transform your space into a wonderland by incorporating whimsical decorations.
Here are some ideas:
Create a Wonderland entrance: Hang a "Welcome to Wonderland" or "Par-tea" sign at the entrance to your party space. You can also add a door with a "Do Not Disturb" sign like the one in the story.
Playing card garlands: Cut out playing cards and string them together to create garlands to hang around your space.
Tea party table: Set up a whimsical tea party table with mismatched teacups, saucers, and plates. You can use pastel colors and floral patterns for a dreamy effect.  However, the black and white tea cups below give all of the Wonderland feels.
Flowers: Decorate your space with roses, daisies, and other flowers. You can also add some paper flowers to your decorations.
Wonderland characters: Incorporate Alice, the Cheshire Cat, the White Rabbit, and other characters from the story in your decorations. You can use cutouts or figurines.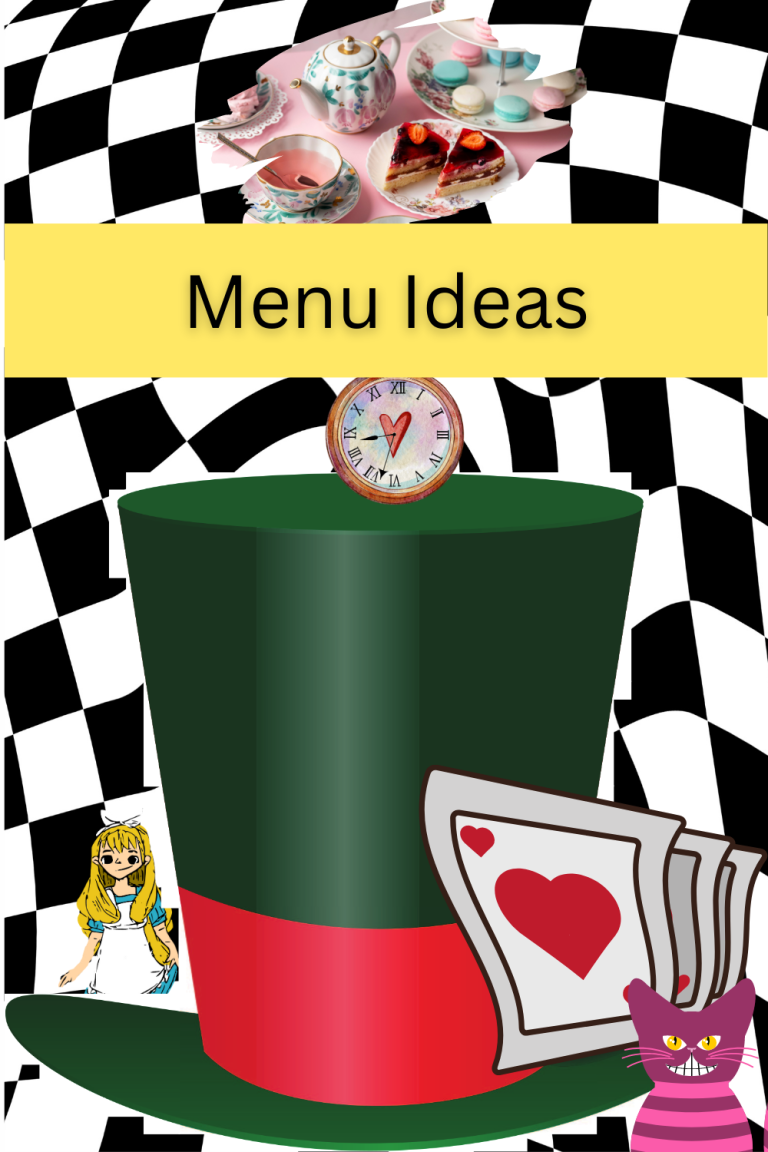 Themed Tea Party Menu Ideas
The menu is the centerpiece of any tea party, so be sure to serve a mix of sweet and savory treats. Here are some ideas for your Alice in Wonderland tea party:
"Drink Me" potion: Serve a refreshing beverage like a fruit punch or a lemonade in clear plastic bottles or jars with "Drink Me" tags tied around the neck.
Tea sandwiches: Serve a variety of tea sandwiches with fillings like cucumber and cream cheese, egg salad, and chicken salad.
Scones: Offer both sweet and savory scones with clotted cream and jam.
Miniature desserts: Serve an assortment of miniature desserts like macarons, cupcakes, and mini tarts.
Mushroom cap appetizers: Cut off the stems of large mushrooms and stuff them with cheese or other fillings for a savory appetizer.
Mad Hatter's Tea: Serve tea in a variety of flavors and offer different kinds of sugar cubes and creamers for guests to mix and match to their liking.  If your guests do not prefer tea, apple juice or lemonade would make a delightful substitute.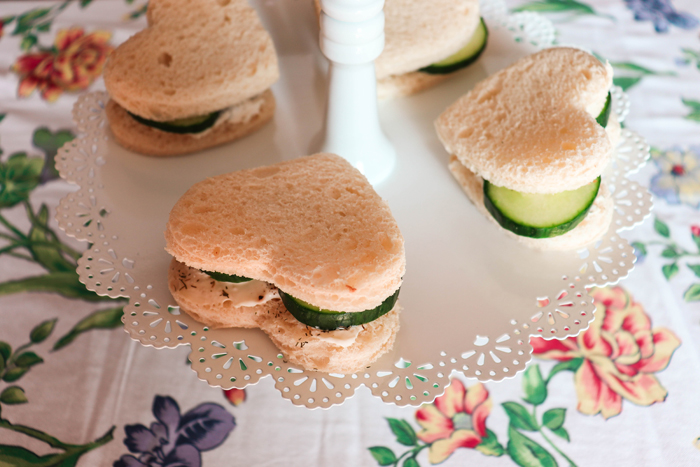 Alice in Wonderland Cupcake Ideas
The decorative toothpicks make cupcake decorating easy.  The fact that each one is different makes it fun to choose which one you and your guests will eat.
Take Lots of Pictures
We hope you have a fun and memorable party.
Hosting an Alice in Wonderland themed tea party is a delightful way to bring a touch of fantasy and whimsy to any gathering. From the playful decorations to the scrumptious treats and tea, guests of all ages will love immersing themselves in the charm and magic of this beloved story. So gather your tea cups and playing cards, and let your imagination take flight with an Alice in Wonderland tea party that will leave you grinning like the Cheshire Cat!