Kids Cooking Camp Ideas
Here's a thought, kids cooking camp ideas for cooking at home! It's the perfect time to plan some fun activities for kids. Not only is cooking a valuable life skill, but it can also be a lot of fun for children. Cooking can also have its benefits with helping picky eaters try new foods. In this blog post, we'll share 8 kids cooking camp ideas that are perfect for kids ages 5 to 12.
Be sure to check out the benefits of summer cooking camps for kids.
Also, here's a useful list of Baking Equipment for Beginners.
Bakery Kids Cooking Camp
If your child loves to bake, this is the perfect camp for them. Teach them the basics of baking, including measuring ingredients, mixing dough, and decorating cupcakes.
This is one of the most popular class themes because kids love to make and decorate baked goods.  Baking activities can include: homemade cookies from scratch, muffins, rolling out and decorating with fondant, baking homemade bread, and making pastry dough.
Check out our new e-guide:  Kids 5-Day Baking Cooking Camp Guide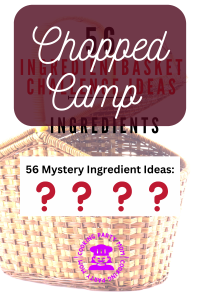 Kitchen Science Camp
Cooking is not only delicious but also a great way to teach kids about science. This camp will focus on the scientific principles behind cooking, such as chemical reactions, and the role of heat in cooking.
One of the favorite kitchen cooking science is making pizza dough from scratch.  Watching the yeast reaction is part of the fun.  Homemade salad dressing emulsions is also a great and tasty science experiment.
In addition, there are so many kitchen related activities that can be included: making homemade 'lava lamps', volcanoes, and more.  
Inspired by another popular TV show, this camp will challenge kids to create the most unique and creative cakes. It's a great way to teach kids how to be imaginative and think outside the box.
This camp includes everything cake decorating.  Kids can learn cake decorating techniques with piping bags and tips.  This is great for the young artist and foodie.  Decorate small personalized cakes so that each child can have their own unique cake to show to loved ones.
Here is a starter kit for piping tips.  Also, these are the piping bags that I have used.
*No affiliation with the Food Network.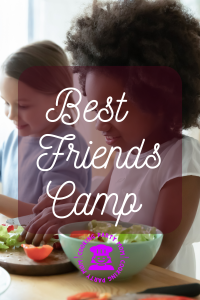 Best Friends Cooking Camp
Cooking is a great way to bring people together, and this camp will focus on cooking with friends. Kids can invite their friends over to learn how to cook and share their creations.
This camp is all about cooking with a friend. Make meals that are small for two people. Take turns with measuring and mixing. Kids can learn to work as a team with their friend to create a meal together.
Magic Menu Camp
Who doesn't love Disney? This camp will teach kids how to cook their favorite Disney-inspired dishes. It's a great way to introduce kids to different cuisines and cultures.
This menu involves items found during your magical visit reinvented at home. Menu items can include: homemade soft pretzels, Stitch's taco cups, Maleficent meatballs, and the 'gray stuff.'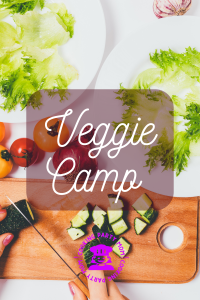 Healthy Cooking Camp
Teaching kids how to cook healthy meals is an important life skill. This camp will focus on teaching kids how to make nutritious and delicious meals that are good for them.
Adding veggies to any kids' favorites including pizza.  Cut fruit with small cookie cutters and make kabobs.  Learn simple ways to wash, slice, and store veggies.
Here are my favorite small cookie cutters that are great for fruit shaping.
Turn the music up and dance between cooking activities to stay active.
Spa Workshop Camp
Cooking isn't just about food – it can also be used to create natural spa treatments! This camp will teach kids how to make their own scrubs, masks, and other spa treatments using natural ingredients.
Homemade soap and unicorn sugar scrub are fun ideas that kids will love to make.
If you are looking to plan a space themed cooking camp, check out our post on Galactic Space Theme food ideas.
In addition to being fun, cooking camps can have many positive effects on children. Cooking helps children develop important skills, such as math, reading, and problem-solving. It can also help them develop a love for healthy foods and encourage them to try new things. Cooking with kids can also be a great bonding experience, allowing parents and children to spend quality time together. 
In conclusion, creating a kids cooking camp at home is a great way to keep children entertained and teach them valuable life skills. Cooking be a great tool for confidence in the kitchen.  These 8 ideas are just a starting point – get creative and come up with your own cooking camp themes!
How to Find a Summer Cooking Camp
I know what you are thinking – these are great ideas, BUT how do I find a summer cooking camp for my child? 
Great question!  We have a list of great suggestions for you in this article 5 Best Baking Camp Ideas at Home or In Person.
In this post we cover how to find a baking camp along with suggestions for virtual and D.I.Y. cooking camps as well.  You can apply these tips for not only baking camps but also for a variety of camp offerings as well.