Summer Cooking Camps for Kids
Summer cooking camps for kids are a great way for kids to having continuing education while having fun at the same time during summer break.
Did you know that there are many benefits to summer cooking camps? 
Benefits of summer cooking camp include development of new cooking skills, increased confidence in the kitchen, and the opportunity to make new friends.  There are several types of cooking camps including in person and virtual.  Therefore, no matter where you live, if there is no camps near you, you may be able to find a virtual option to take at home.
Benefits of Summer Cooking Camps for Kids
Learning New Cooking Skills
There are many new cooking skills that kids can learn at cooking camp. Here are some examples:
Basic Cooking Techniques: Children can learn fundamental techniques such as chopping, dicing, sautéing, grilling, baking, and roasting.

Kitchen Safety and Sanitation: Kids can learn the importance of proper hygiene, food safety, and how to handle kitchen tools safely.

Meal Planning and Prep: Children can learn how to plan and prepare healthy meals and snacks, and how to create a grocery list.

Recipe Reading and Adaptation: Kids can learn how to read and follow recipes, and how to make adjustments to suit their taste preferences or dietary needs.

Presentation and Garnishing: Children can learn how to present and garnish dishes to make them visually appealing and more enticing.

International Cuisines: Cooking camp can offer an opportunity for children to explore international cuisines and learn about different cultural dishes.

Knife Skills: Kids can learn how to properly hold and use a knife, and how to cut different types of ingredients.

Menu Planning: Children can learn how to plan a menu for a special occasion or event, and how to coordinate different dishes to make a complete meal.

Pastry and Baking: Cooking camp can teach kids how to make pastries, cakes, cookies, and other baked goods from scratch.

Food Presentation: Kids can learn how to plate and present dishes in a visually appealing way, and how to use garnishes and decorations to enhance the presentation of their dishes.
Developing Teamwork Skills
Cooking camp can provide a great opportunity for kids to learn and develop teamwork skills, including:
Communication: Kids can learn how to communicate effectively with each other, listening to others' ideas and sharing their own.

Collaboration: Cooking camp often involves working in groups or pairs, where kids can learn how to collaborate and work together to achieve a common goal.

Division of Labor: Children can learn how to divide tasks and responsibilities evenly among group members, and how to delegate tasks according to each person's strengths and abilities.

Problem-Solving: Cooking involves making decisions and solving problems on the fly, such as how to adapt a recipe when ingredients are missing or how to adjust seasoning to taste.

Time Management: Kids can learn how to manage their time effectively, setting goals and deadlines and working together to ensure dishes are prepared and cooked on time.

Support and Encouragement: Cooking camp can provide a supportive environment where kids can encourage and motivate each other, building a sense of camaraderie and teamwork.

Leadership: Some cooking camps may offer leadership opportunities, where kids can take charge of a group or lead a specific task or project, building confidence and leadership skills.
Types of Summer Cooking Camps
Day Cooking Camp: Day cooking camps are typically held during the day and are usually shorter in duration, ranging from a few days to a week. Children attend the camp during the day and return home at night. These camps may cover a variety of topics, such as basic cooking skills, baking, and international cuisines.

Virtual Cooking Camp: Alternatively, virtual cooking camps allow kids to participate in cooking classes and activities from the comfort of their own home. These camps are conducted online, with instructors leading live cooking classes and providing step-by-step instructions.

Online On-Demand Cooking Courses for Kids: Online cooking courses for kids provide a more structured approach to learning how to cook. Kids can take courses at their own pace and learn a variety of cooking skills and techniques. These courses may be offered as pre-recorded videos, tutorials, or interactive classes.

University Camps: Some universities offer summer cooking camps for kids, where they can learn from professional chefs and instructors. These camps may focus on specific topics such as culinary arts, nutrition, and restaurant management. These camps often include a mix of classroom instruction and hands-on experience in professional kitchens.

At Home: If you want to have some fun at home with a DIY cooking camp, here are some theme ideas for 8 kids cooking camp ideas for summer.
Activities You Might Find at a Cooking Camp
Here are a few activities that you might find at a cooking camp.  All cooking camps design their own camps in their own way and what works for them.  Do your research on the camp that you choose.
Learning How to Make Recipes from Scratch
Specialty Baking and Cake Decorating
Basic Knife Skills and Kitchen Safety
Mixing, Measuring, and Basic Kitchen Skills
Team Building Challenges
Tasting Prepared Dishes
Tips for Choosing a Summer Cooking Camp
Look at the Menu of Items
Do They Focus on Kitchen Safety
Is It Age Appropriate for Your Child's Needs
Make Sure It Meets the Needs of Your Child
Cooking Camp Programs Across the Country
Here are just a few of many camps located across the U.S.  If you do not have an in person cooking camp near you, be sure to look for virtual options.  Cooking Party Mom is not associated with any of these particular cooking camps listed here.
In person Camps
Located in Austin, Denver, L.A., New York, Seattle, and Washington D.C.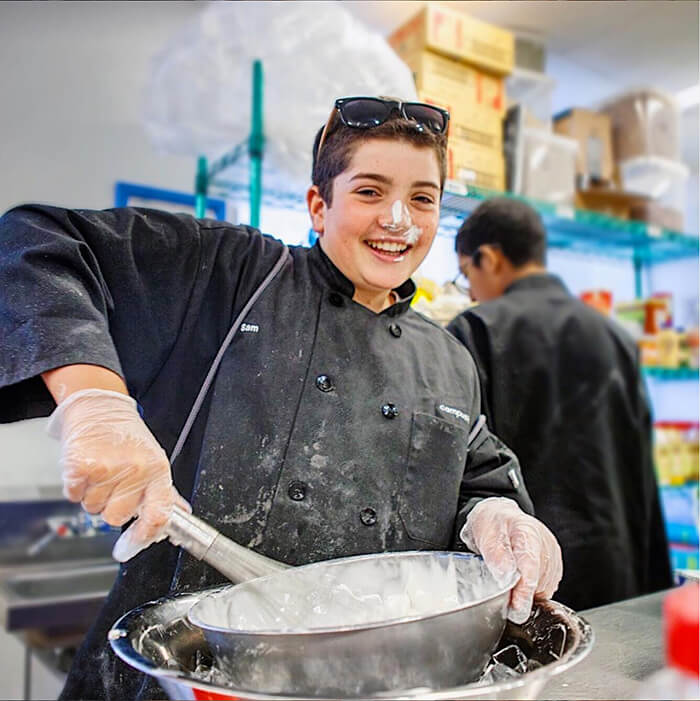 Offers a sleep away and day cooking camp option for ages 12-17.
Offers in person classes featuring hands-on workshops in cooking, baking, and pastry arts.
Locations include: New York, California, and Texas
Located in San Jose CA, Upper Missouri, Wisconsin, South Florida, and New York areas.
Offers camps for ages 4-17 with age-appropriate activities, tools, games, and instruction.
Located in Berkeley and Oakland CA areas, this cooking school focuses on cooking camps for teens.
This cooking camp is located in Running Springs, CA and features kitchen safety, dishes for a variety of meals, and a cooking competition.
Offers summer cooking camps for kids and teens featuring an Around the World camp and all things pastry camp.
Located in Baltimore, MD.
Virtual Cooking Camps for Kids
The best thing about virtual cooking camps is that you can participate in your own kitchen.  No traveling involved (except to get the groceries!) and you can eat what you make.
Virtual options can be a great option if you live in a rural area or if there is not an option for a cooking school in your local area.
Parents will need to be available to help kids with their cooking regardless of the age for safety of the program.  Before the camp, you should receive a list of all equipment and grocery items that you will need to have on hand to make the recipes.
Be sure to take pictures of all of the activities because this will be a fun memory with your kids.
Cooking Party Mom is an affiliate for the Kids Cook Real Foods programs.  Click on our affiliate information to see what this means.
Here is one of my favorite virtual programs: Kids Cook Real Foods.
The instructor Katie Kimball teaches kids in a relatable way, making it easy for kids to learn and remember instructions.
Hopefully this article was helpful in your journey in researching kids cooking camps. With technology today, there is something for everyone whether in person or virtual.
Here are some additional links to summer cooking camp directories.
Schools of Cooking in Southeast U.S.
Check with your local universities, especially if they offer a culinary or nutrition program.
Please share your experience with a cooking camp with us.