Create your Fairy Garden Tea Party
Let's get creative and make the most magical fairies tea party.  All of your fairy guests will be feeling magical with these fairies tea party ideas.
Fairy Tea Parties are great for many occasions including birthday parties, seasonal parties, and baby showers.
21 Magical Fairies Tea Party Ideas are in the following categories:
When you think of a fairy most of think of a Tinkerbell type of fairy with wings and a magical wand. The fairy elements along with the tea party go hand in hand to make a beautiful setting for a tea party. There can also be some elements of fairy tales as well.

What Kind of Tea do Fairies Like?
The age range of your guests at your tea party will determine what kind of tea or beverage to serve.  If you are looking for herbal tea, I found Berry Cotton Candy Herbal Tea on Amazon. 
Many youngsters may prefer fruit juice instead of herbal tea.
Fairy Garden Party Tea Party
Bringing in the garden aspects of the tea is always a great feature.  Items such as flowers, greenery, and garden themed food items are fun for a fairy garden tea party.
The woodland fairy tea party theme is more of a rustic theme with wood features, mushrooms, more non-traditional fairy items.
How to Create a Magical Fairy Garden Tea Party
You will find everything you need to set the table for your garden fairies tea party.  Featured below are 21 fairy tea party ideas.
Before you start planning, I recommend to grab this Free Tea Party Checklist.
#1 Fairy Garden Tea Party Invitations
Every enchanted fairy tea party begins before the party with sending great invitations.  Invitations start the building of the excitement amongst the party guests.
#2 Fairy Garden Tea Party Invitation
#3 Decorations: Garden Garland
A nice garland really adds to the element of the garden fairy atmosphere.
#4 Decorations: Custom Fairy Sign
Welcome your guests with a sign on an easel.  Everyone will want to take pictures next to the sign as well.
#5 Tea Party Porcelain Cake Stand
This 3 -teir porcelain cake and dessert stand is ideal for a tea party.  The pastel colors and delicate details are a beautiful addition to any table.  Check price on Amazon.
#6 Woodland Fairy Cake Stand
The woodland fairy stand is more rustic.  If your fairy fan is more of a woodland fairy fan, this cupcake stand would be ideal.  
It is also made of cardstock so it not breakable.  Be sure to add this to your list of fairy tea party supplies.
Place cards are fun and they can also serve as a little memento after the party.  When the guests arrive, either have them make their own or write and set them on the table ahead of time.
#8 Fairy Party Balloon Set
#9 Artificial Grass Table Runner
#10 Decorative Tea Party plates
Use these decorative disposable plates for both the food and dessert.  The unique variety of  colors and designs really set these plates apart.  Check price on Amazon.
#13 Paper Tea Cup Options
For the young fairies that may not be ready for breakable tea cups, there are certainly great paper tea cup options.
Every fairy needs a set of wings.  Use wings to decorate for your party as well. Find these fairy wings on Amazon.
#15 Easy Fairy Themed Cupcakes
The simplicity of these fairy cupcakes make a stunning centerpiece on the table.
#16 Add Flowers to Your Garden Fairy Tea Party Table
This flower display on the table really adds a delicate touch to the fairy tea party.
Placing flowers in a plain white tea pot takes the garden tea party into a whole new aspect. The macarons around the candle vase makes a great edible centerpiece.
#17 Butterfly Napkin Rings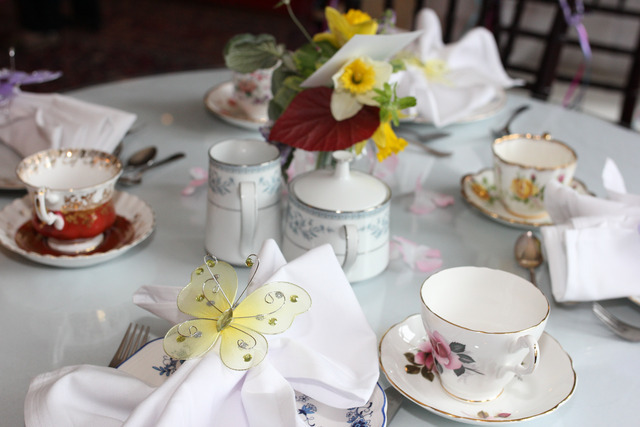 #18 Add a Plate Charger for Another Tea Party Element
The scalloped edge along with the pastel pink color is great for your fairy tea party.  In addition, these can be used for many occasions such as Easter and Valentines parties as well.
#19 Lady Bug Appetizers for Your Tea Party
Every garden fairy tea party needs a cute featured appetizer.  These lady bug crackers will add a nice element to the party menu.
#20 Enjoy Butterfly Sandwiches at Your Fairy Tea Party
Sandwiches are nice and simple but also a more satisfying snack if your party is taking place during a meal time. 
Using a butterfly sandwich cutter along with carrot and celery sticks, these sandwiches are not only cute but easy to make.  Fill the sandwich with your choice of fillings.
#21 Fairy Garden House Hummus Platter
Last but certainly not least, if you are feeling very creative, take a look at this edible fairy garden home.
This garden fairy home is not as difficult as it looks at first glance.  The bottom has a layer of hummus with sliced vegetables on top of it.  The house is made of bread slices and topped with a bell pepper.
Where to have Your Fairies Tea Party?
If the weather is nice, it is great to have the party outdoors. 
If you like an outdoor theme, please look at these ideas for an Adventurous Backyard Camping Party.
A Wonderland Tea Party is also a fun spin on a tea party.
Need more ideas for food items for your tea party?
1. Strawberry Bites
2. Cucumber Mini Sandwiches
Thank you for stopping by Cooking Party Mom.  I hope you have great success in your party planning.