If you were a little girl in the 1990's, you may have had an American Girl doll. If this isn't you, I bet you know or have a little girl that has an American girl doll.  That's what makes American Girl activities perfect for a dream birthday party.
The first American Girl doll debuted in 1986, and still today American Girl dolls are a must-have for doll fans.  
According to Wikipedia, the dolls were developed to portray girls of different ethnic backgrounds, nationalities, and social classes in American history.  These historical characters have been featured not only as dolls but also in books, magazines, films, games, and soundtracks. 
Over time, the dolls have evolved into characters such as soccer player, mermaid, gymnastics themes and more. The doll clothes have endless themes in the American Girl collection.  There are even matching American Girl Scout uniforms so that she can match her scout owner.
There was an American Girl magazine that was published from 1992 to 2019.   
If you live near an American Girl Bistro and American Girl store, there are several activities that you can bring your American Girl fans to experience.  
For example the American Girl New York City, features activities, parties, take-home parties, dining, salon, and personal shopping. https://www.americangirl.com/pages/retail-new-york
The activities held at the American Girl store vary according to seasonal activities.  However, you can look at their American Girl activities listed on the site to get some great American Girl ideas for your American Girl party at home. 
Now that you know a little more about American Girl dolls, let's gather some American Girl activities ideas to create memorable moments with your doll fans and her favorite American Girl doll.
There are plenty of American Girl doll ideas for birthday parties or just for a fun themed gathering of American doll fans.
15 Best American Girl Activities for Birthday Parties
1. Doll Brunch
A doll brunch is where guests bring their favorite American Girl doll (or other doll if they don't have an American girl doll) to have brunch together.  
Some things to consider when hosting a doll brunch:
Set extra table space for the guest plus their dolls.  
​Consider the type of menu that you want to serve.  
Serve items that are not too messy so that they don't get food all over the dolls.
These doll high chairs are great for doll seating at the table.
Another idea for doll seating is a chair back seat pocket bag in which to place the doll. You could always customize it and give to your guest as a party favor to take home.
3. Doll Fashion Show
​Since the American Girl dolls have clothing for matching outfits with their owner, it makes a perfect party where kids can show off their modeling skills in a fashion show. 
Lay out the red carpet, grab some lights (even flashlights), turn on the music, and let the kids show off their American Girl doll fashion.
4. Cooking with Dolls
This American Girl activity may sound counter-intuitive, however, this is a really fun idea.  The key is to keep it simple! Dolls can be seated at the table while the kids take turns making food "for the dolls" … it's really food for them but they can pretend.  
Pancakes are a great example of keeping simple.  You can even create colorful pancakes by adding food coloring to the batter.  Display a topping bar of pancake toppings for kids to choose what they want.  Don't forget the sprinkles! 
5. Cupcake Decorating with Dolls
This is a super fun American Girl activity that you can be customized for your party.  Make the base plain cupcake ahead and have them ready for the party.  Make extra so that kids can bring some home with them as a party favor.  
Place a decorating tip in the piping bag and fill with your favorite color icing.  Have a variety of colors so that kids can get creative. 
For the toppings, since the American Girl theme has a star in it, some star shaped items will be great.  Some examples can be fondant cut into star shapes or decorative cupcake picks with a star. 
6. Matching Outfit Party
From pajamas to dresses, kids will have a great time dressing like their American Girl doll.  Be sure to set up a photo booth so that the kids can take plenty of pictures with their doll, doll outfits, and doll friends, to create memorable moments for their picture books.
7. Dance with Dolls Party
This one is simple! All you need is American Girl doll fans, their dolls, and some great music!  
8. Doll Donation Party
This is one of my favorite American Girl activities.  Doll fans and their dolls can have a party with a cause.  You choose the cause, and guests can bring in their donation for the cause.  Here are some examples:
Animal Shelter – Donation ideas can be dog food, dog toys, and blankets.
Food Bank – Donation ideas can be bringing in canned goods and non-perishable items.
Toy Donations – Donation ideas can be to stay with the doll theme and guests can bring in a new doll for child in need. 
9. Doll Art Party with American Girl Craft Ideas
Get creative with your American Girl activities and bring in several craft projects, activity books, and art projects for guests to customize.  Either have a theme for the project, or let them create their own based on their doll style.
There are several craft download, free doll printables, American Girl doll crafts, and American Girl DIY activities.
10. Doll Ball
This doll ball party is where kids get to dress up for a fancy ball.  Outfits can range from princess dresses to sparkly ensembles. 
11. Park & Picnic with Dolls
Have the kids over for an afternoon of play time at the park.  Bring a picnic basket and blankets so that kids can have a picnic meal with their favorite little playmate, their American Doll. 
12.Host a Doll Salon
Similar to the idea at the American Girl store, host a doll salon at home.  Brushes, no heat curlers, bows, headbands, and barrettes are all great ideas to have on hand for doll salon party.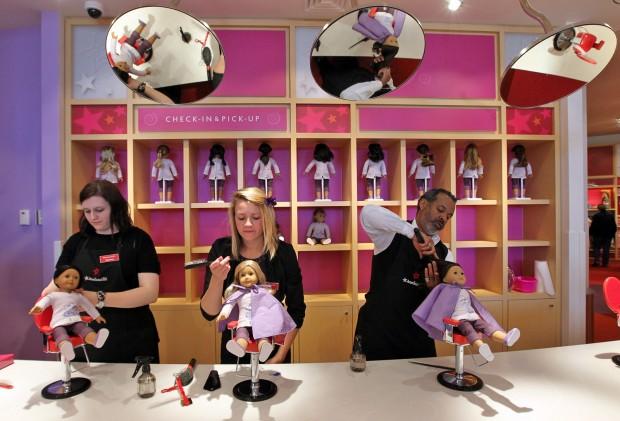 15. Cookie Decorating with Dolls
Every American Girl fan will enjoy decorating cookies with their favorite doll friend.  Have the cookies already baked for the party.  Star shaped cookies would be ideal for the party but circles will do as well.  
Make royal icing and color it with your favorite colors or do red, white, and blue for the American Doll theme. 
Aren't these American Doll activities so much fun?!
There are so many ways that you can celebrate in creative ways with American Girl activities. Whether you are hosting a doll brunch or fixing the doll's hair with a doll salon, enjoy the moments creating memories with American Girl fans.  
For more party ideas like this one, be sure to check out the Fairies Tea Party Idea.