IT'S SHOWTIME, and it's time for the big screen!
We are all about movie party ideas and easy tips to host your movie party at home.
When it comes to movie party ideas, it's all about the FOOD and the MOVIES to create the atmosphere that you're looking for for all the fun. 
You will create the best V.I.P. (very important person) movie night party with memories and photos to cherish.
In this post, we will cover the following:
Movie Night Party Invitations
Movie Night Party Ideas
Movie Party Themes for All Occasions
The Best Movie Birthday Party Ideas
Easy Tips to Host a Movie Party
Backyard Movie Night Ideas
The Best Movie Night Themed Party Ideas Your Child will Love
Movie Party Ideas for Adults
Movie Party Decor
Movie Night Party Invitations
Get your guest excited with an epic invitation. Your child will be the starring character of the show and the award winner for the celebration.
You can make your own invitation on Canva and print it or you can find movie party invitations on Etsy.
Here are ideas for creating your movie party invitations:
Make a Movie Ticket
Award Style for Your Golden Globe Winning Party
Celebrity Red Carpet Style
Movie Stars in the Making
These themes will include elements of stars, film reels, action signs, cameras, lights, and even director's chairs.
These invitations really open up for clever and cute descriptions.  For example, you can write, contact my agent AKA mom! 
Here are more ideas for your invitations:
"Star" = of course, the guest of honor is the STAR!
"Cast" = guests at the party
"Call Time" = time of the party
"Studio Location" = address location of the party
You can also write "no papparazzi please" and also have dark sunglasses for your guests when they arrive!
7 Celebrity Movie Party Ideas: Be the Star of Your Show
Your Favorite Movie Night Party Ideas
Light's … Camera … Action! 
Movie parties are fun to make everyone at the party feel they are a part of the show.  You will love these movie party ideas from food to decorations to the BEST movie themed activities!
Here's a list of our favorite movie party ideas that will make your party, the best and most memorable ever.
#1 Set Up the Best Movie Themed Food Table
Don't worry we have lots of ideas below.  Feeling creative? Make food items that are from the scenes of your movie selection.  This movie themed food table can be your mini-concession stand.
Not feeling creative?  Make regular foods (whatever you feel like making) and put fun labels in front of the items that are related to the movie selection.  Don't stress, you got this!
Movie Themed Food Table Must-Have Items:
Popcorn
Nachos and Cheese
Apple Nachos – apple slices with choice of sweet toppings
Boxed Candy (or go for dried fruit boxes if you want a non-candy spin)
Hot Dogs if age appropriate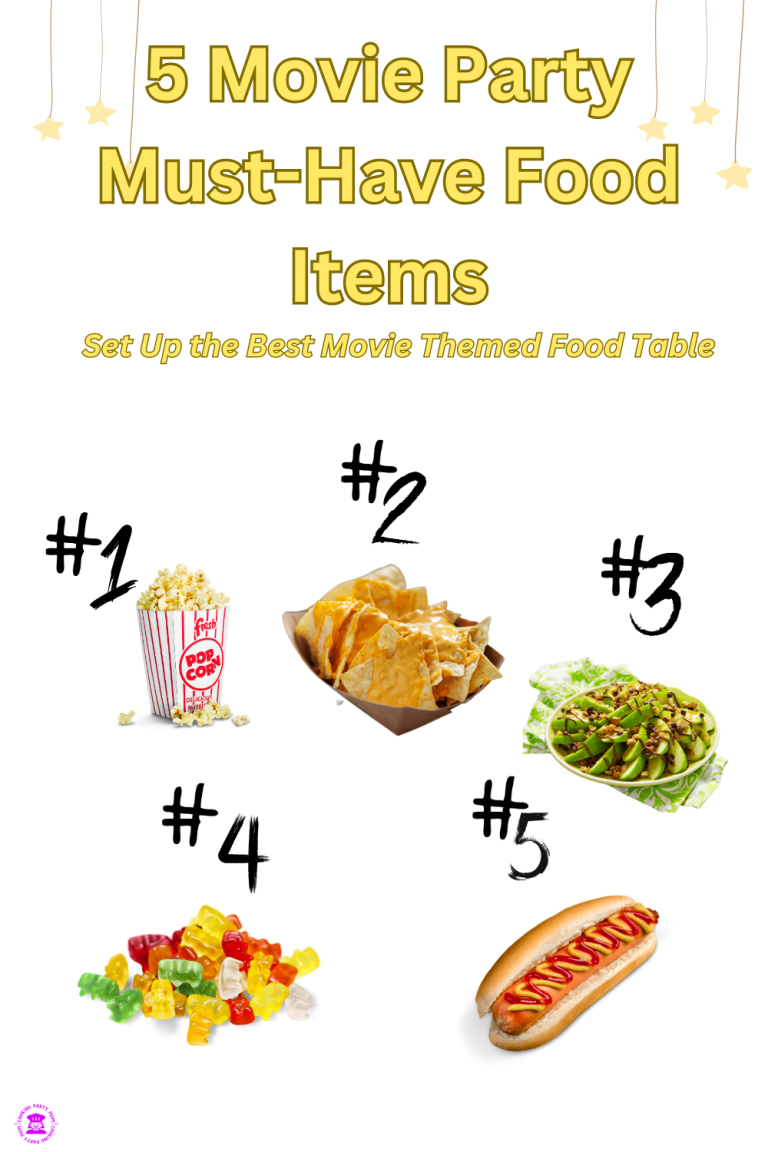 Popcorn:  Any type of popcorn will be a crowd pleasing movie food.  You can have pre-popped, air-popped, microwave popcorn, or a giant popcorn popper as a centerpiece. 

Nachos and Cheese:  Nachos and cheese are a traditional food that you can find at the movies as well.  Not only that, but nachos and cheese are more filling than popcorn.  You can have jalapenos as an option as well if guests are into a little kick of spice.
Apple Nachos: A great alternative to traditional nachos where the "nachos" are the apple slices.  The toppings are anything from caramel to coconut flakes and chocolate chips.
Boxed Candy: The boxed candy like the movie theater concession stand is a fun way to add the movie theater feel to the party.  These can be used for movie theater party favors as well.
Hot Dogs: If it is age appropriate, hot dogs are a fun movie theater concession stand food option.  Be sure to have the mustard, ketchup, and relish out for the condiments.

#2 Create Movie Themed Bento Snack Boxes
Grab a divided plate or a cute movie decorated box to create a bento snack box.  Add popcorn along with snack of choice and a drink to enjoy while watching the movie.
Create a buffet style area so that your guests can make their own boxes.
#3 Create a Short Script for Your Guests to Have a Movie Performance
Have a great time creating a short script for your guests to perform.  Use your favorite movie for inspiration. 
Alternatively, use the movie that you will be watching at the party for your inspiration.  Have the guests randomly pick their part.
#4 Celebrity Opening Night Red Carpet Walk
Starting with a red carpet, create your own celebrity red carpet walk.  Have the red carpet at the front entrance so that guests can walk on it as they enter the party. 
Moreover, have a "red carpet walk" time as part of the highlight feature of the party.  Film each "celebrity guest" and create a highlight video to send to guests after the party.
#5 Create a Photo Booth For Celebrity Head Shots
Everybody loves a photo booth.  Your star of the show and guests will have so much fun documenting memorable photo booth moments.  Guests can also have photos as a party favor.
#6 Have an Outdoor Movie Projector Party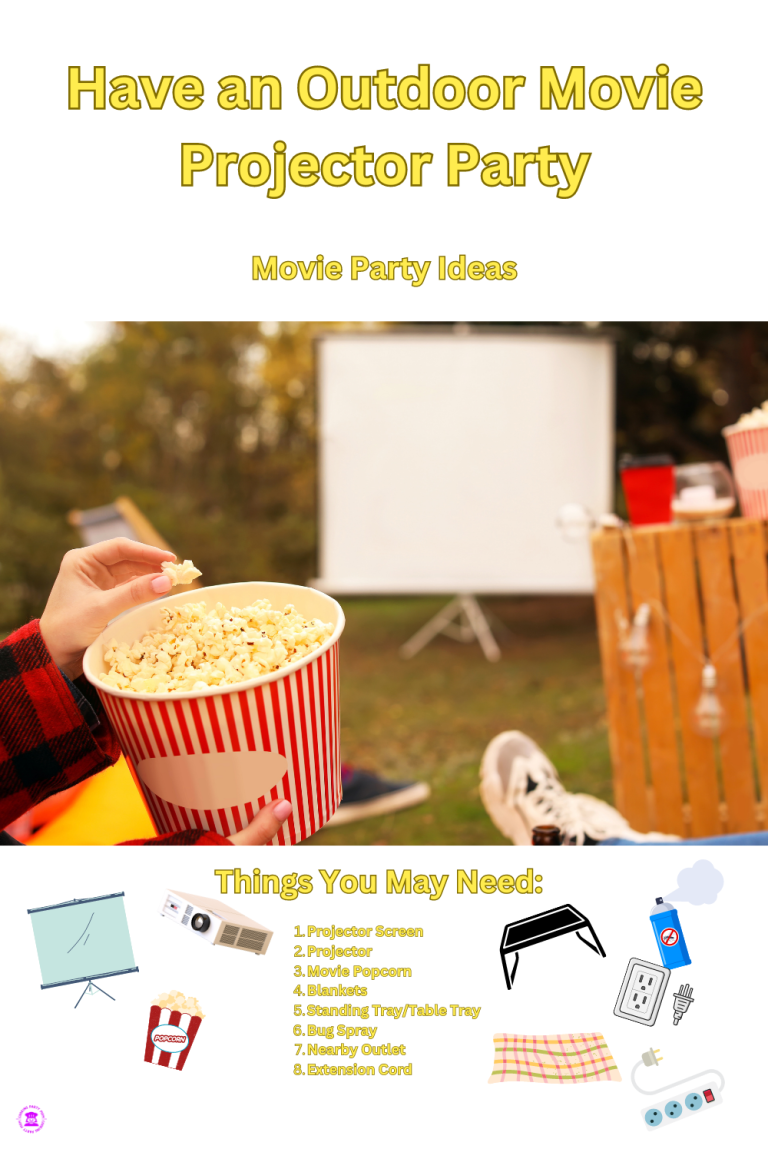 Outdoor movie parties have a whole different feel from a standard movie party.  The outdoor feeling is different because it is like watching a movie with nature!  Sort of brings back the old "drive-in movie" feel. 
If you are preparing for an outdoor movie, you will need a projector or a large television that is appropriate for outdoors.  Keep in mind an outdoor movie is weather dependent, so have an alternate plan just in case.
Here are a few things you may need for your outdoor movie:
Projector Screen
Projector
Movie Popcorn
Blankets
Standing Tray/Table Tray
Bug Spray
Nearby Outlet
Extension Cord
#7 Celebrity Makeovers for Movie Night
Everyone likes VIP treatment!  Create stations for your party where your guests can feel like a VIP movie star.
Here are some movie star station ideas:
Makeup Station
Nail Spa Station
Face Painting Station
Accessory & Props Station
Costume Station
Headshot Station
Movie Party Themes for Kids
We need a theme, right?  Let's brainstorm!
Creating a theme around a movie party is a great way to make your party stand out. Themes can be created around a number of ideas.
Here are some great movie party theme ideas for kids:
Christmas movie party
Halloween movie party themes
Academy award themes
Red carpet themes
Trending movie party theme
Educational movie party theme
How to Choose a Movie for Your Movie Party
You want to pick a movie everyone will enjoy.  However, that's the hardest part.  Let's make it easier for our star of the show and the guests. 
Here is a step-by-step way to select the perfect movie.
Step 1: Select five movies that might be a good fit. 
Here are some ideas to make it easier:
Classic movies – movies that people tend to always like and has been around for ages. Examples: Star Wars, Willie Wonka, and Wizard of Oz.
Trending movie – a brand new movie release that not many have seen and most are excited to see.
Musical movie – a movie with lots of singing and/or dancing. Examples: Annie and Beauty and the Beast
Animated movie – animated movies add a fun element to the movie party.
Action adventure – get your guests excited and ready for an adventurous movie party.
3-D movie: get the glasses ready for a unique experience.
Step 2: Let your movie star select from the five that you selected.  (Just so that it's not so overwhelming)
This may be a no-brainer where your star of the show already has a favorite movie that they always love to watch.
Even if you can't decide, maybe write them all down on sheets of paper and pull the name randomly.
Step 3: Download the movie selection and have it ready to go for your party.
It's important to have the movie ready to go before the party.  There is nothing like starting a movie party with no movie, right?!  That won't happen because we are following these steps! You got this.
Step 4:  Test the movie ahead of time. 
Testing the movie by playing it on the audio-visual equipment is a great way to ensure that the movie will work properly on the day of the party.  Also, if you haven't watched the movie in a while, maybe take a look.
Step 5:  Check the internet.
If you need high speed internet for your movie party, do a quick check to make sure all is working well. Check all plugs and accessories to be sure that the technicalities are worked out ahead of time.
9 Ideas for Movie Night Party decor
Celebrate your movie night with easy decoration ideas.
The iconic popcorn, signs and popcorn boxes are sure to please all guests. Lots of gold stars around the party table will make your guests feel like the star of the show.
Likewise, film reels are a must-have for movie night party decor.
Here are a few great decoration ideas that are easy peasy:
First of all, the smell of the popcorn tells the senses it's time for a movie!  Popcorn boxes and popcorn signs with its bright red and white color brings the movie theme into full affect. 
Reusable popcorn buckets can be a great way to provide a party favor while enjoying popcorn at the movie themed birthday party as well.
If there is one decoration for the movie party, it's the popcorn boxes.
A vintage lighted popcorn sign on your "concession stand" table adds a unique touch to the movie themed party decor.

Gold stars can be personalized by writing each of your guests names on them.  Your party will feel like a glamorous VIP event.
Roll out the red carpet for your movie themed party.  The pictures that you will take on the red carpet of your guests will be epic.  Your guests will feel like the V.I.P. that they are while walking the red carpet.
Everyone needs a clapboard for a movie party!  This is great not only decorate for the party, but also a great prop in pictures. 
The director also needs a Director's Cap which is a black ball cap with white writing "Director."
The action/cut megaphone is going to have all guests wanting to call the shots!  This will make a great prop as well for pictures.
#9 Themed Movie Memorabilia
If you were watching a themed movie, then add to your movie party theme with symbolic items from the movies.
The trophy feature is a fun ideas and also a great movie theater party favor for guests.
For example, if you were watching a movie about the ocean, be sure to have lots of ocean themed items around like seashells and sand buckets. 
Alternatively, if you are watching a movie about the galaxy, be sure to have lots of galactic space themed items such as planets and astronauts.
Enjoy the moment!
Have fun with your decorations, remember the movie is the highlight activity. 
Movie Party Ideas for Adults
When it comes to movie party ideas for adult, all of the movie party ideas in this post can apply for adults. 
The biggest difference, of course, is going to be movie selection. 
Adults will love a V.I.P. celebrity experience maybe even more than the kids!
You can change up the foods ideas by having more of a movie themed chacuterie board and fun themed mixed drinks.
Party Favors for Your Movie Party
At the close of the movie themed party, guests will have popcorn buckets, popcorn, candy, photos, and maybe even some of the props to take home with them. 
Your movie themed party is going to be a truly memorable experience.  In addition, you will have as much fun planning the party as you will have during the party!
Isn't this a fun list of movie party ideas?  Here is a summary of the 7 movie party ideas for your V.I.P. guests:
#1 Set up the best movie themed food table
#2 Create movie themed bento snack boxes
#3 Create a short script for your guests to have a movie perfomance
#4 Celebrity Opening Night Red Carpet Walk
#5 Create your own photo booth for celebrity headshots
#6 Have an outdoor movie projector party
#7 Celebrity makeovers for movie night
Hope you enjoyed these movie party ideas.  Please share these ideas with your friends and tag Cooking Party Mom.