The Ultimate Tea Party Checklist
You have found the perfect planning guide for your tea party!  Your FREE Tea Party Checklist is here.  Everything you need to host a tea party from choosing tea cups to creating the perfect afternoon tea party atmosphere.
In this post you will find the following:
Planning a Tea Party PDF Checklist

Tea Party Planner

How to Plan a Tea Party for a Large Group

How to Plan a Tea Party for Adults

Planning a Kids Tea Party
After you scan this post, you will learn how to give a tea party.  You will also learn how to get started on planning a tea party.
How to Plan a TEa Party for a Large Group
Planning a tea party largely depends on the size of the group.  If you are inviting a large group for your tea party, you will want to ask your guest to R.S.V.P. or reply if they wish to attend or not. 
Knowing the number of attendees will allow you to best plan your amount of tea cups, tea, and food that you will have for your party. 
If you are planning to have guests seated at the same time, planning the number of chairs and tables available is essential. 
Depending on the crowd size and tables needed will also increase the need for additional table decor as well.
party ideas: Occasions and Themes
The occasions and themes for tea parties are almost endless.  You can plan a tea party for almost any celebration or holiday.  
Here are a few ideas for occasions and themes:
Birthday Parties
Christmas Teddy Bear Tea Party
Halloween Tea Party
Wedding Shower
Baby Shower
Mommy and Me Tea Party
Father Daughter Tea
Menu for AFternoon Tea Party What Food to Serve
Tea parties include light food items to be served along side the tea.
A traditional party menu for afternoon tea will include any the following items:
scones
cookies
decorative cupcakes
tea sandwiches such as cucumber sandwiches
small bites such as quiche
fruit
Since charcuterie boards have gained popularity, a charcuterie board topped with the above options could also be a nice inclusion on the tea party table.
For more tea party food examples, check out our post 21 Magical Fairies Tea Party Ideas.
How to Choose Teacups Teapots for Your High Tea Party
The tea cups and the tea pots are one of the highlights and stars of the show at a tea party.
In the tea party checklist guide, I have listed some suggestions on choosing tea cups.
Here are a few thoughts on choosing tea cups and tea pots for your high tea party:
Mix and Match:  Having a variety of patterns on cups can create a fun aspect to the table.  Guests will have a great time comparing tea cups.
Get Thrifty:  If you need additional tea cups, go to a thrift shop.  You will likely find some unique tea cups to add to your collection.  In addition, you might be lucky enough to find some extra tea pots to use as decorations. 
Don't Forget About the Saucers:  All tea cups need a saucer.  These also do not have to be an exact match. 
Create the Perfect Afternoon Tea Atmosphere
The atmosphere is one of the parts of a party that many people have as an afterthought.  With so many things to plan, sometimes it can go to the wayside.
However, it is one of the most important parts of the party. 
Here are tips for creating the perfect afternoon tea party atmosphere:
Consider the Location:
There are several locations to be considered including the following:  in-door, outdoor, covered, tented, rented building. 
Music: 
Download a playlist of soft upbeat music for good, positive background atmosphere.
Entertainment:
Consider planning one or two games to play during the party.  Games can be something people can do on their own, for example, guess how many coffee beans in the jar.  Alternatively, games can be organized and led by the party host.
Space: 
Observe the amount of space that will be allotted for dancing or moving around.  In addition, seating space for comfortable seating.
Temperature:
If the tea party is outdoor in the summer heat, consider fans to keep the air flow. 
How to Plan a Tea For Adults
Planning a tea party for adults has a few variances from planning a tea party for kids.  The main differences are the following;
There might be adult beverages served at an adult tea party.
The food may be more of fork and plate food versus finger foods.
The tea cups and plates may be more fragile than at a kids tea party.
When planning a tea party for kids, the main idea is to keep it feeling fancy yet lighthearted and fun.  
Just as mentioned with the differences above, considering age as far as what breakable items that you will be using is essential.
Keeping the food items as finger foods are easy to enjoy by all.
Tea Party Checklist Everything you Need for High Tea
Use this tea party checklist to help you with planning your tea party. This checklist guides you through thoughtful planning of the following;
Planning Before the Party
Tea Details

Supplies for a Tea Party
Foods for Tea Party
Decorating for Tea Party
Party Items Checklist
How to Use the Ultimate Party Checklist
Here are a few tips to make the best use of this guide.
Print the checklist and place it in your planning area. For example, I would put the list on the refrigerator so that I see it as I plan.
What is the theme of your party? For example, is it a fairy tea, a wonderland tea, or anything else that is special to you and your guests.
What is the occasion? Tea parties are a very versatile parties. Many people like a tea party for a birthday party, baby shower, wedding shower, or just for fun.
Start with the first section "Before the Party" to begin the planning process.
After you begin receiving responses, tally your attendee list so that it will be easier to plan for the number of people.
Tea Details Section: Since it is a "tea" and your guests will be dressed for an elegant party, deciding on what will be served is important. Decide which kind of tea that you want to serve. If it is a child's party, they may prefer a juice option instead of tea.
Tea Accessories Section: Find your perfect tea serving supplies. You may have some family heirlooms that you want to use or you may have to order a new set. Another thought is think about borrowing a tea set. The beauty of a tea party is that the tea cups do not need to match perfectly. You can also check your local second hand shops for tea cups.
Menu Planning: Decide on your menu options that you want to serve for your guests.
Food Accessories: A gentle reminder on some items and tableware to include for your tea party.
Table Decorations: It's important not to skip this detail. Table decorations such as tablecloths, table runner, and flowers will add the perfect touch to your party.
Tips for a Tea Party on a Budget
Here is a great infographic listing ideas for planning a tea party on a budget.  Some of the most costly items are the accessories and decorations.  Here are 5 tips to help get you started on a budget friendly tea party.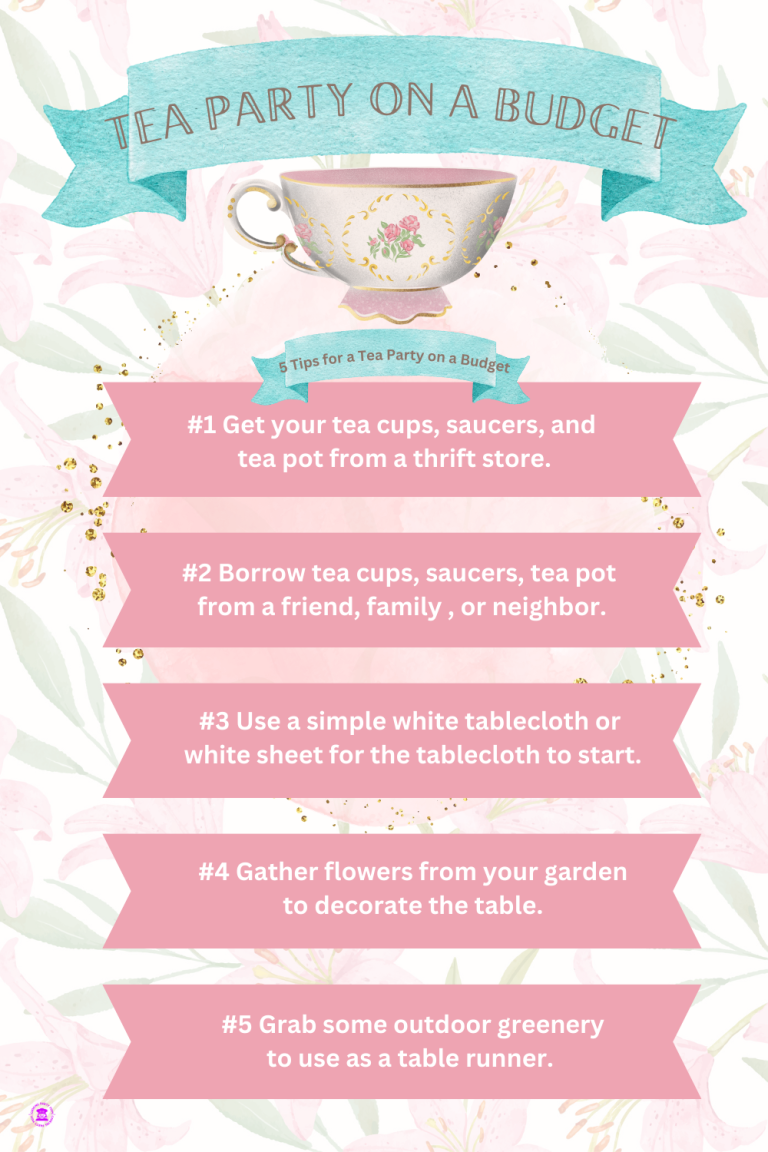 The good news is that tea is relatively inexpensive and you can make a lot of tea on a budget.  However, the budget really comes into play more on the accessories side of the planning.
Here are 5 tips for a tea party on a budget:
1. Get your tea cups, saucers, and tea pot from a thrift store.  Thrift stores or second hand shops often have these types of items.  Mix and match is actually a good thing when it comes to a tea party.  Everyone can have their own unique place setting.  You may also be able to find napkins and table rings while you are there.
2. Borrow tea cups, saucers, and tea pot from a friend, family, or neighbor.  Most people don't use these items on a regular basis and would be happy to see it get some use.
3. Use a simple white tablecloth or white sheet for the tablecloth to start.
4. Gather flowers from your garden or ask a friend for flowers and greenery from their garden.
5. Outdoor greenery will be great for creating a table accessory similar to a table runner if you do not have one.
Tips and ideas to transport you and your guests to a magical wonderland of tea, treats, and fantastical decorations.  Read more…
In summary, your perfect tea party awaits you. The good news is that it is not a difficult party to plan.  Hopefully, the checklist and guidance in this post will be helpful for your party planning. 
Keep in mind that any time you plan a party, as hard as it is, try to keep your stress level low.  Have fun and enjoy the process.  Your guests just want to spend time with you and enjoy your company. 
Wishing you the best party planning.  Thank you for stopping by Cooking Party Mom. 
Please bookmark our page for your party planning convenience.  Tell a friend about Cooking Party Mom.
Best,
April (Cooking Party Mom)