Getting Creative with Quesadillas with Cheese
Quesadillas with cheese are a great meal option for busy parents looking to cook something quick and easy that their kids will love. They are also a great way to get kids involved in the kitchen and make mealtime more fun. Here are some creative cheese quesadilla recipe ideas for making quesadillas that your kids will love.
There are so many ways to make an easy cheese quesadilla.  In fact, it can be as simple as creating shapes or changing your favorite foods into quesadillas such as a pizza quesadilla.
Quesadilla Ingredients
One of the best things about a quesadilla is that it takes very few ingredients to make them. 
Cheese for the Quesadilla
There are several types of cheese that can be used.  These include:
Freshly Grated Cheese
Cheddar Cheese
Monterey Jack Cheese
or your favorite shredded cheese
Choose Your Tortilla
In addition, the type of tortilla is essential for making a delicious quesadilla.  Typically, people usually choose from two kinds of tortillas in general, corn tortillas or flour tortillas.
Not to mention, there are several subgroups of tortillas including but not limited to high fiber, low carbohydrate, whole wheat, gluten free, and also flavored tortillas. 
Go ahead and pick your favorite to get started.  Consequently, if you plan to cut shapes into the tortilla, using a flour based type may be the easier option for cutting purposes.
Other Quesadilla Ingredients
Think about additional ingredients that you or your family may like on the quesadilla.  Using quesadillas with cheese as the base for the meal, what else would you like to add?  For example, you might like some added vegetables or proteins on your quesadilla.  Similarly, some fun ideas may include a pizza quesadilla, taco quesadilla, or a breakfast quesadilla.
Follow along with the pictures below to look for decorative ingredients to add to a creative meal.
Fun Shapes with Cookie Cutters
Cookie cutters are a great tool to use when making quesadillas with cheese. Use them to cut out fun shapes like stars, hearts, and animals. Kids will love helping you choose the shapes and placing them on the tortillas.
Fun with Dinosaurs
Dino-love! Your dinosaur fan will have fun making these for a dinosaur themed party.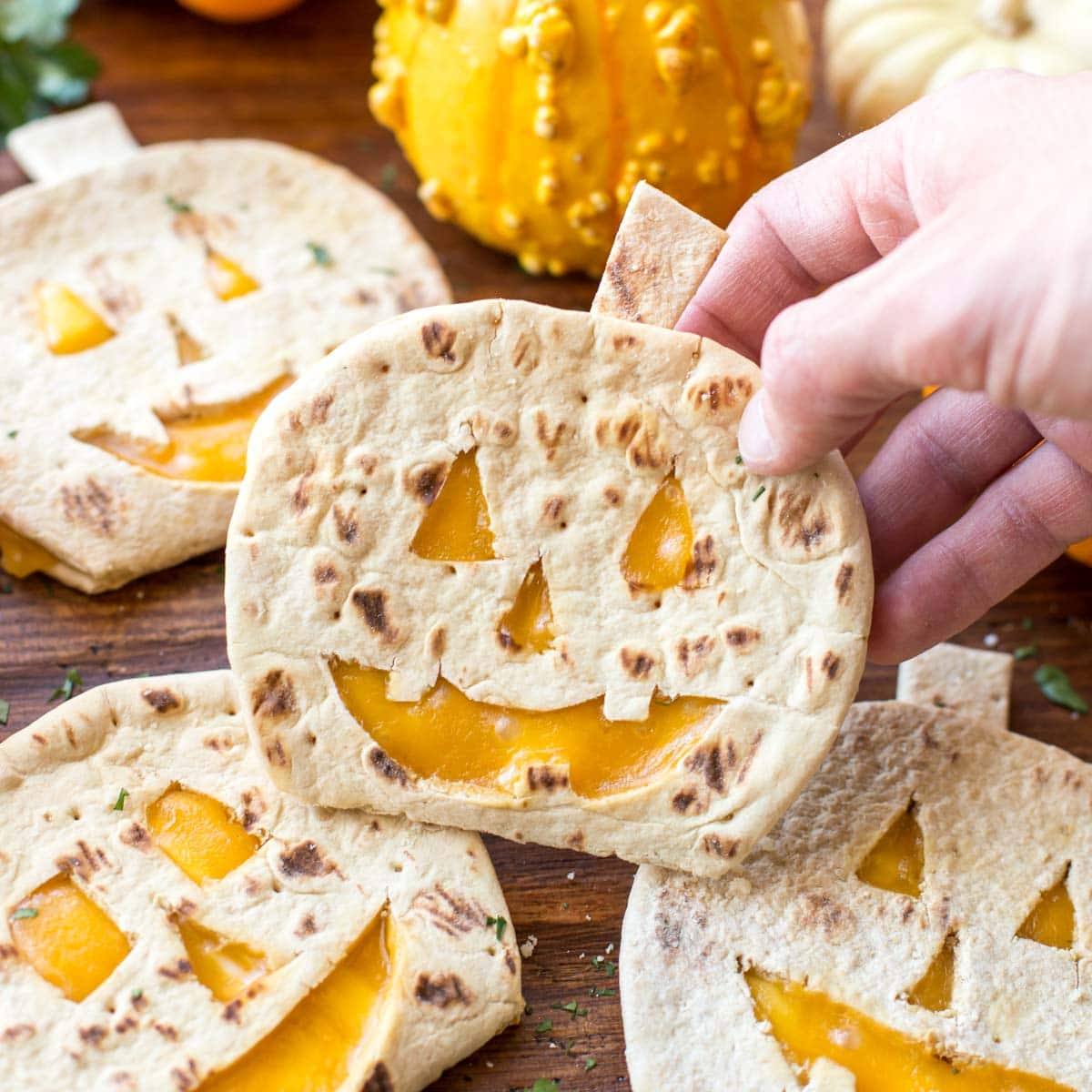 Jack-o-Lantern Theme
Jacko-dillas!  Jack-o-lantern pumpkin shaped quesadillas are perfect for fall fun or a Halloween themed party food.
Snowflake Theme
Snowflake quesadillas are super cute for a winter party.  In addition, think about how fun these will be for a Frozen Ice Princess party.
Little Reindeer Theme
These little reindeer are a precious addition to a Christmas or Holiday party.  However, they would be great for a hunting or campout themed party as well.
Dinosaur Party Theme
Another one for the dinosaur fans.  These can be cut with dinosaur cookie cutters.
Emoji Face Theme
Here is one from our own Cooking Party Mom collection.  Emoji faces!  Using the tortilla to design your own emoji face, add a whole tortilla for the bottom along with your choice of cheese.
Rocket-ship Space Theme
Dare we say this is our favorite!  This rocket was made by the Cooking Party Mom.  It looks good enough to blast flavor into your mouth.  If you like this rocket, you might like our post on Galactic Space Theme ideas.
In conclusion, quesadillas with cheese are a versatile and tasty meal option that kids will love. With these creative ideas, you can make mealtime more fun and get your kids excited about cooking. Additionally, use cookie cutters to make fun shapes, try different flavors like pizza and taco, and don't forget to indulge in some sweet quesadillas too!